Collaboration Stories: Spring 2021
The Royal Bison has created new connections within our community for over a decade. Now, we're seeing our vendors collaborate more than ever! Here's three amazing vendor collabs from vendors this spring.
Pick a collab to read all about it:

BUNO Design & AdrianMartinus/PoolDesign

Homework Letterpress & Material Culture

Emily Storvold & Jen Jong
Esmahan Abdallah and Anne Pool brought together hand-crafted jewelry and recycled skateboard art to create a whole new line of wearable art.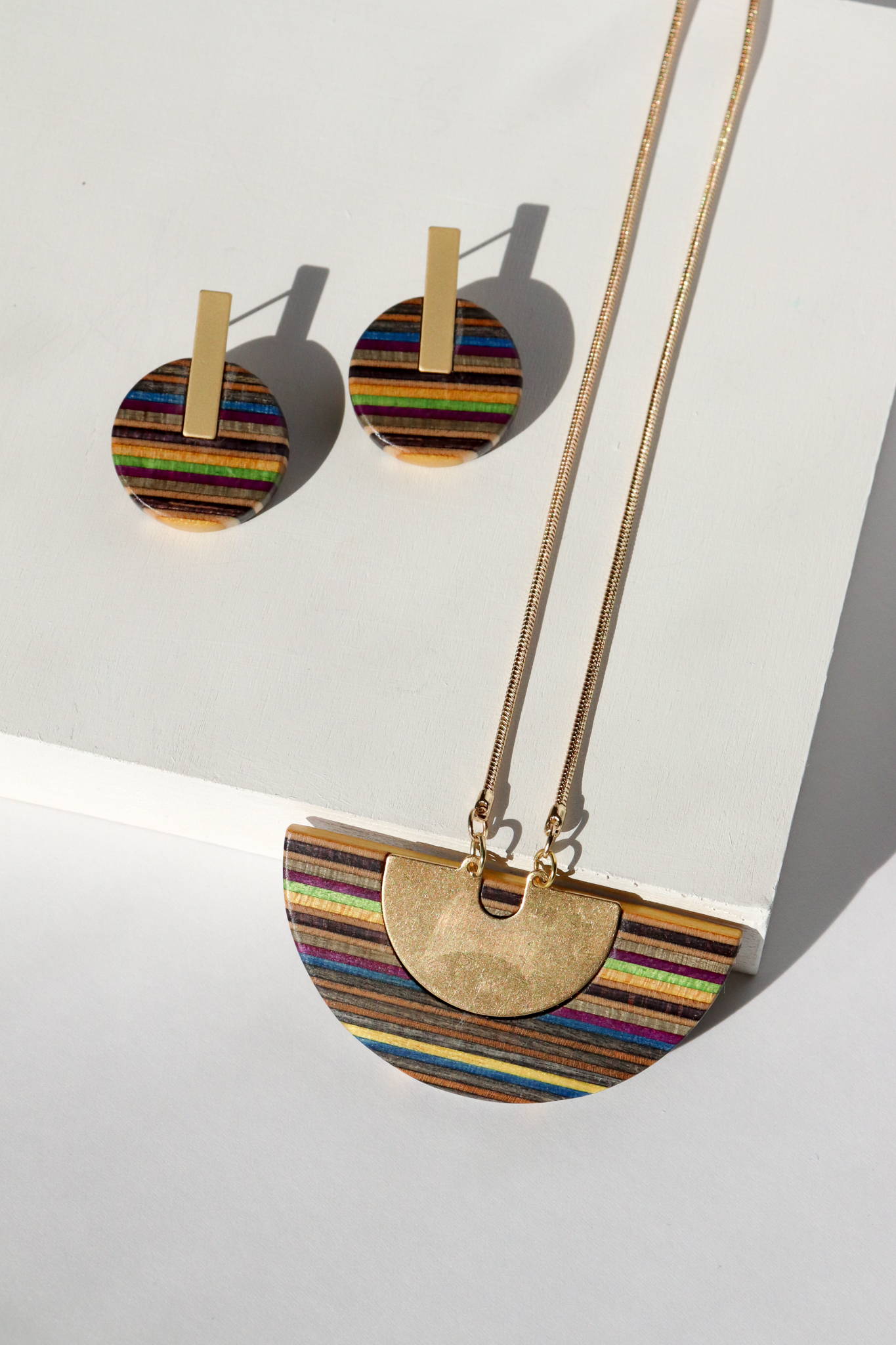 How Do you Do?

Esmahan's first Royal Bison was allllll the way back in 2018 and it was then she met Anne, who works with Adrian and Martinus. Esmahan tells us, "As a sustainable jewelry brand that is always looking for sustainable raw materials, I was so impressed with Adrianne Martinus (Pool Designs) products from jewelry to their furniture using recycled skateboards. I knew from that day, I would love to work with Anne in the future." And so they did!
The Process

They began with a Zoom meeting discussing jewelry design ideas and Esmahan showed Anne her process. Anne tells us, "I thought it was so cool how Esmahan showed me how she researches ideas in designing her pieces by creating image and colour boards on Pinterest." Once their ideas were solidified, Esmahan tells us, "I was already working on some wood beads designs and we wanted to keep the same designs but usie the recycled wood beads that Anne made."
Esmahan then shipped some samples to Anne to help her determine measurements and design layout. Anne worked her magic, choosing the most colorful skateboard veneers she had and laser cut the pieces, sanded them, and then varnished them. They were then sent back to Esmahan to be assembled into stud earrings, stud/dangle earring combos, and a necklace design, too!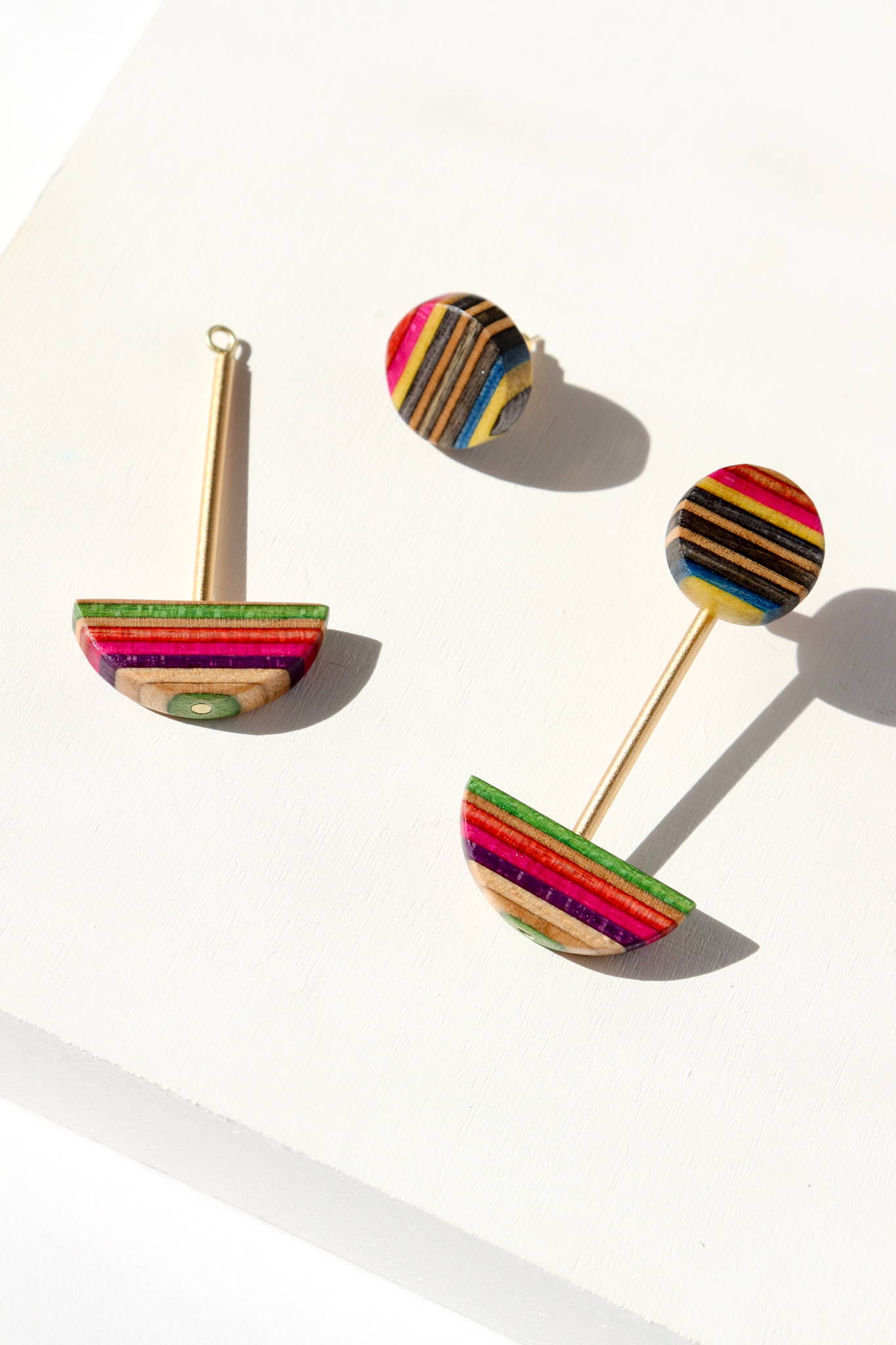 The Surprises!

Anne tells us that, "Working with Buno Design got me excited, as I was feeling a bit stuck in a pandemic fog and feeling unmotivated (like the rest of the world?) It was great to connect and share ideas and materials. Not only did we get to combine forces and make jewelry together, but grow a friendship also."
Plus it was a breeze to work together! Despite only meeting via Zoom, "Anne was brilliant to work with and she made the whole process so seamless," Esmahan tells us. And Anne feels the same way. She tells us, "Esmahan was a joy to work with and she's got a fresh outlook on designing and working with different mediums, yet there's a nice consistent aesthetic in Buno Design's bold and colourful jewelry." Whoa, we've got the warm fuzzies over here. It's incredible what can be achieved over Zoom!
With the increased awareness of sustainable practices, Esmahan says she "hopes we can inspire fellow jewelry makers with the endless possibilities of using recycled material to create beautiful elegant jewelry."
Both hope to work together again in the future and we hope so, too! You can follow along on their projects (both together and individually) at @buno_design & @adrianmartinus / @annetranholm.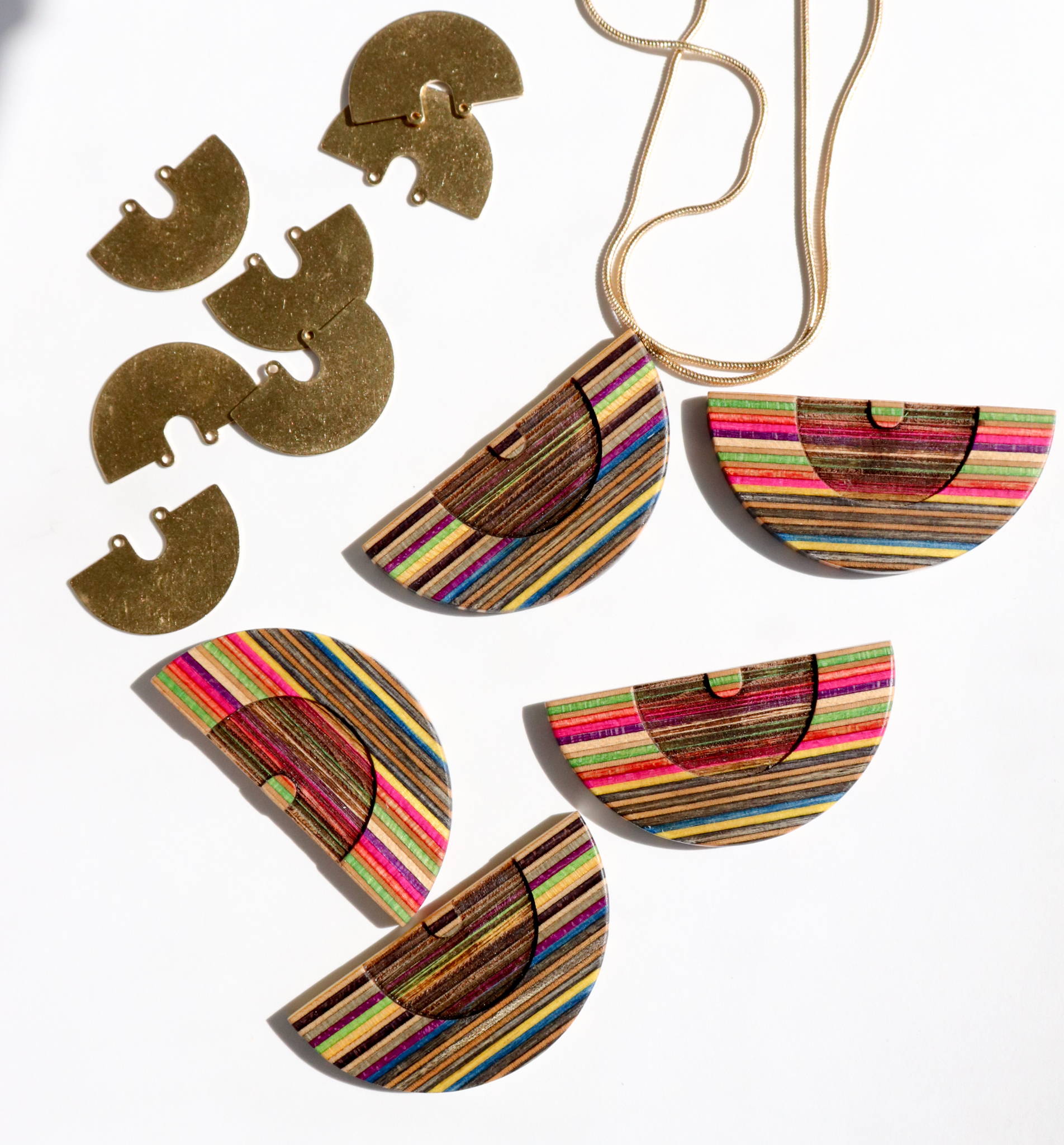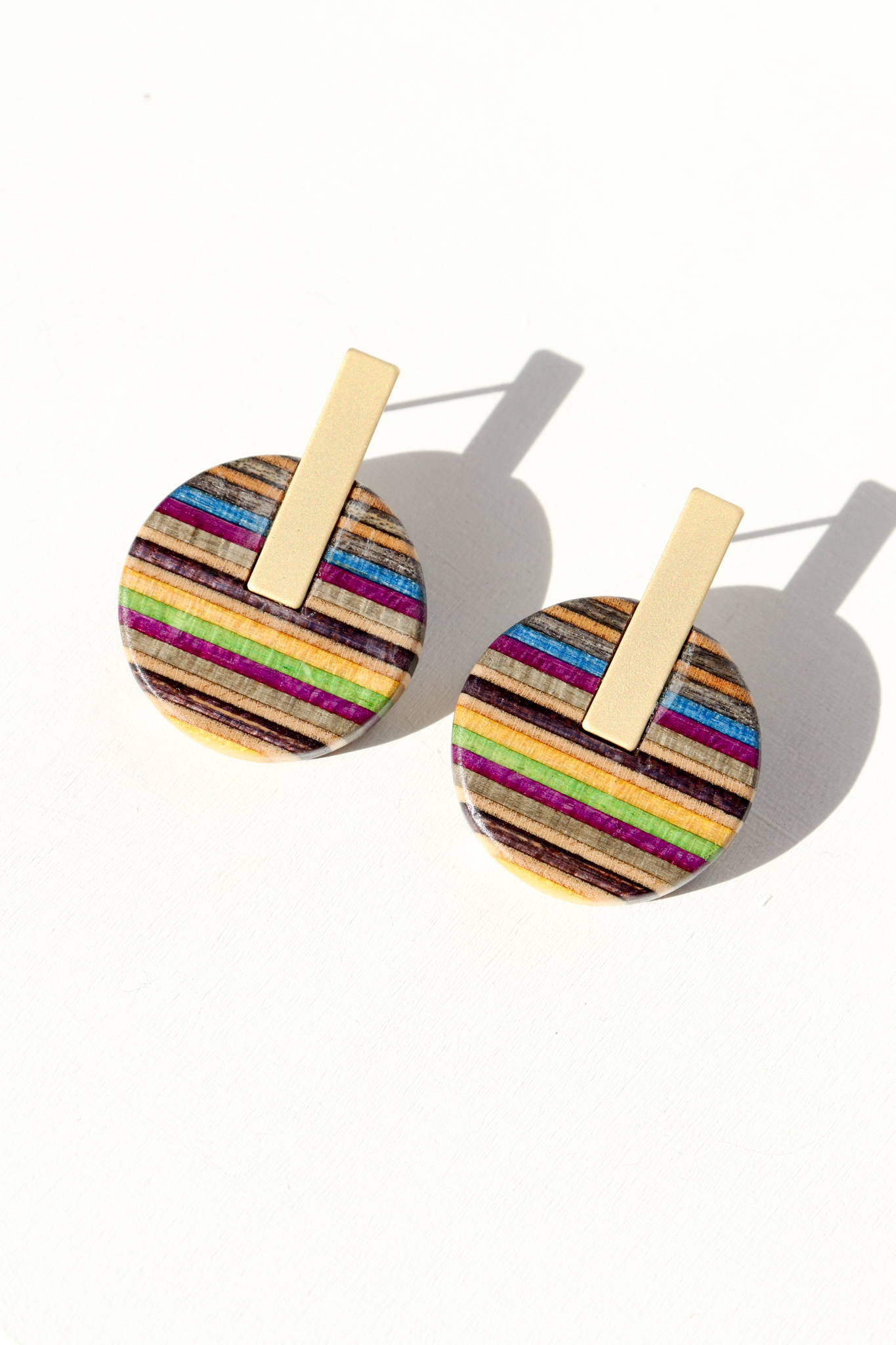 Daria was inspired by Genevieve's material handling and mark-making on ceramics while Genevieve has always loved the look and feel of letterpress, finding Daria's greeting cards sweet and beautifully thought out.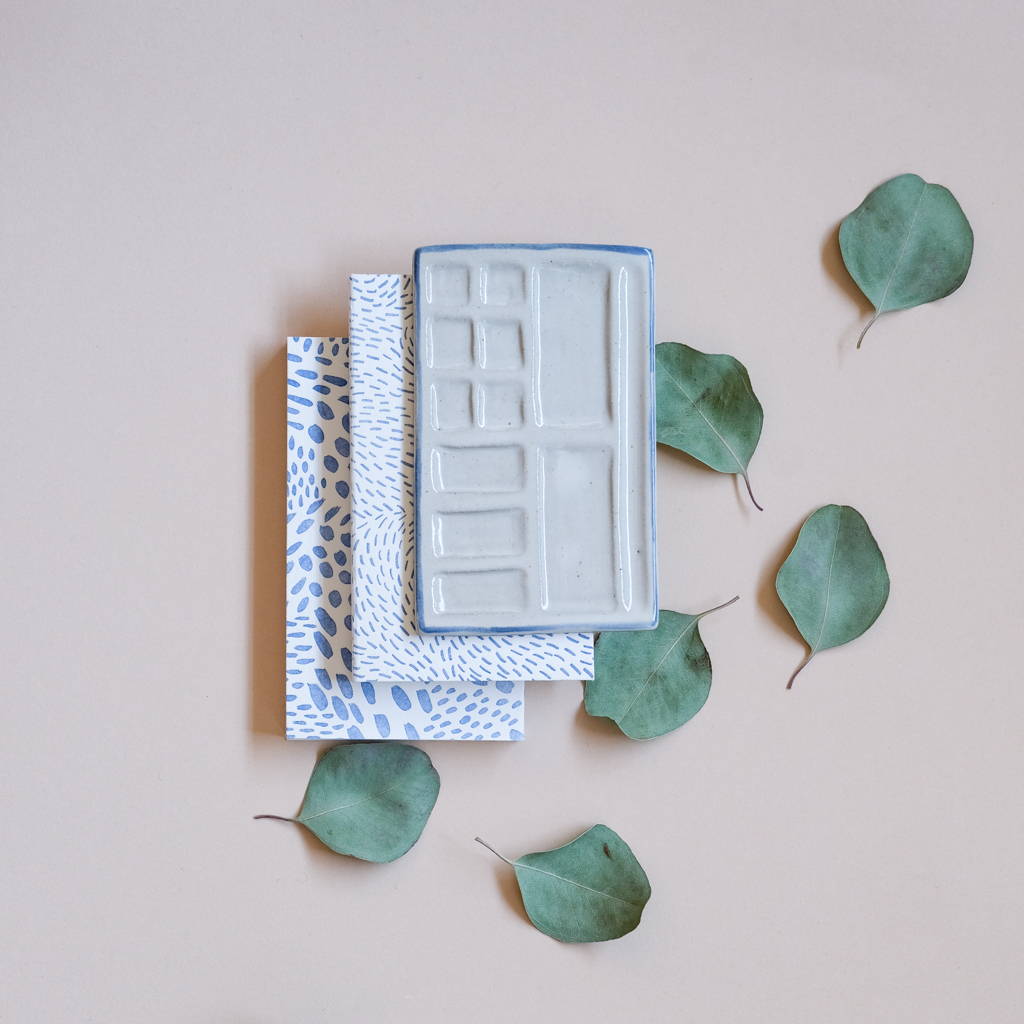 Material Homework?
Daria knew when she saw Genevieve's paint palettes that it would be a great place to start for a collaboration. Daria tells us she does a lot of sketching and drawing in her work and always wants it to feel fresh and expressive. On the other hand, Genevieve usually has a basic idea of what ceramic form she wishes to achieve, and once it is dry, she looks to see how underglaze painting could improve it.
Combining their processes, Daria asked Geneveive to put some of her signature patterns on paper so she could figure out how to translate them into the photopolymer plates needed to letterpress and achieve the same look on paper as she gets on clay! So Genevieve created the drawings that are on the covers of the notepads and made the ceramic paint palettes while Daria acted as artistic director and production technician, doing all of the letterpress printing and assembling the notebooks.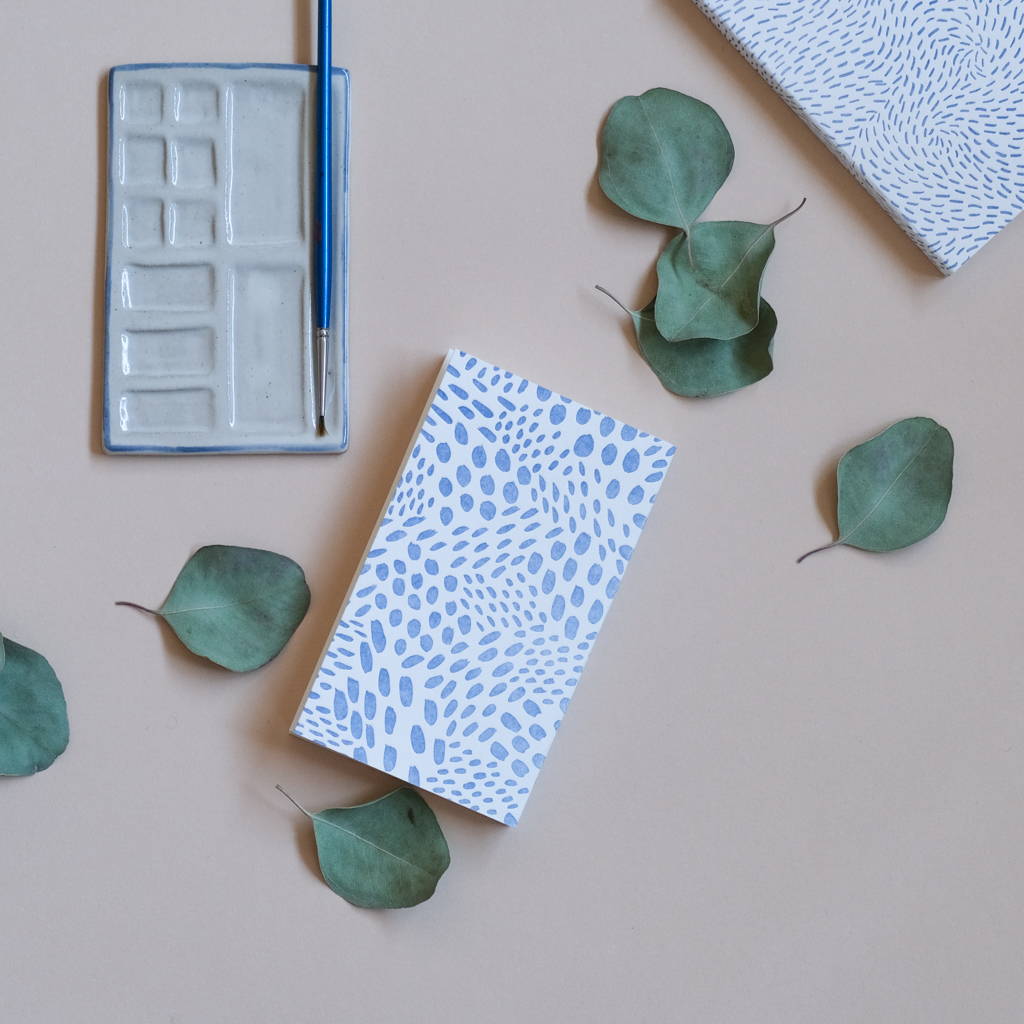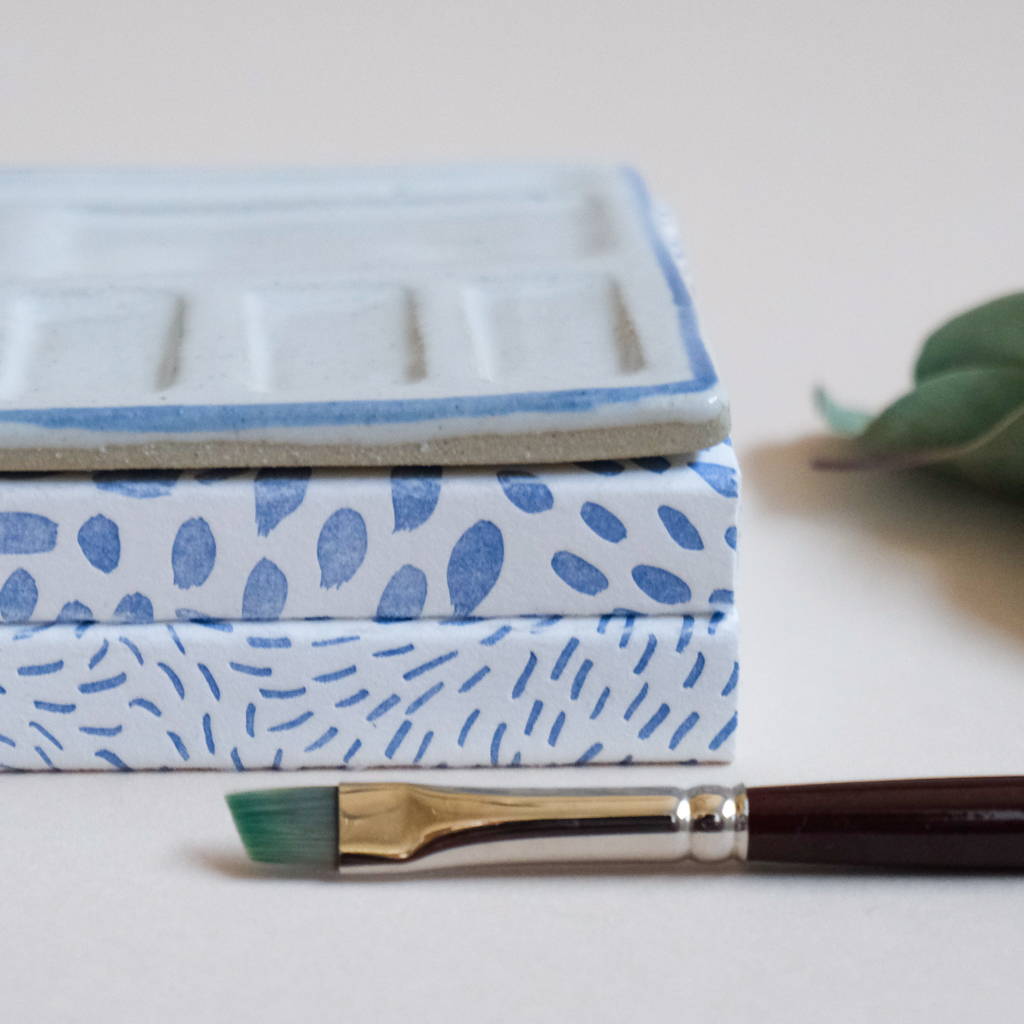 Oh What Fun!
It's been a while since Daria was able to collaborate - she tells us, "I was surprised by how much fun it was and it was a good reminder of how much you can learn from this process." Yet Genevieve couldn't believe how closely their aesthetics and visions for the project aligned, and she tells us that this "made it really easy to work together. It was so fun to see it all coming together just as I had hoped (even better at times) through the various stages of the collaboration. Working with an artist who is such a master of her craft is so inspiring, and really opened my mind to how I could partner with other makers in the future!"
Both artists hope to create more items together, especially once they can gather again and draw in person. Or maybe Daria will let Genevieve operate the press, she hopes!
Follow along for all things ceramic with Genevieve @genevieveongaro and learn about the ins and outs of letterpress with Daria @homework_letterpress.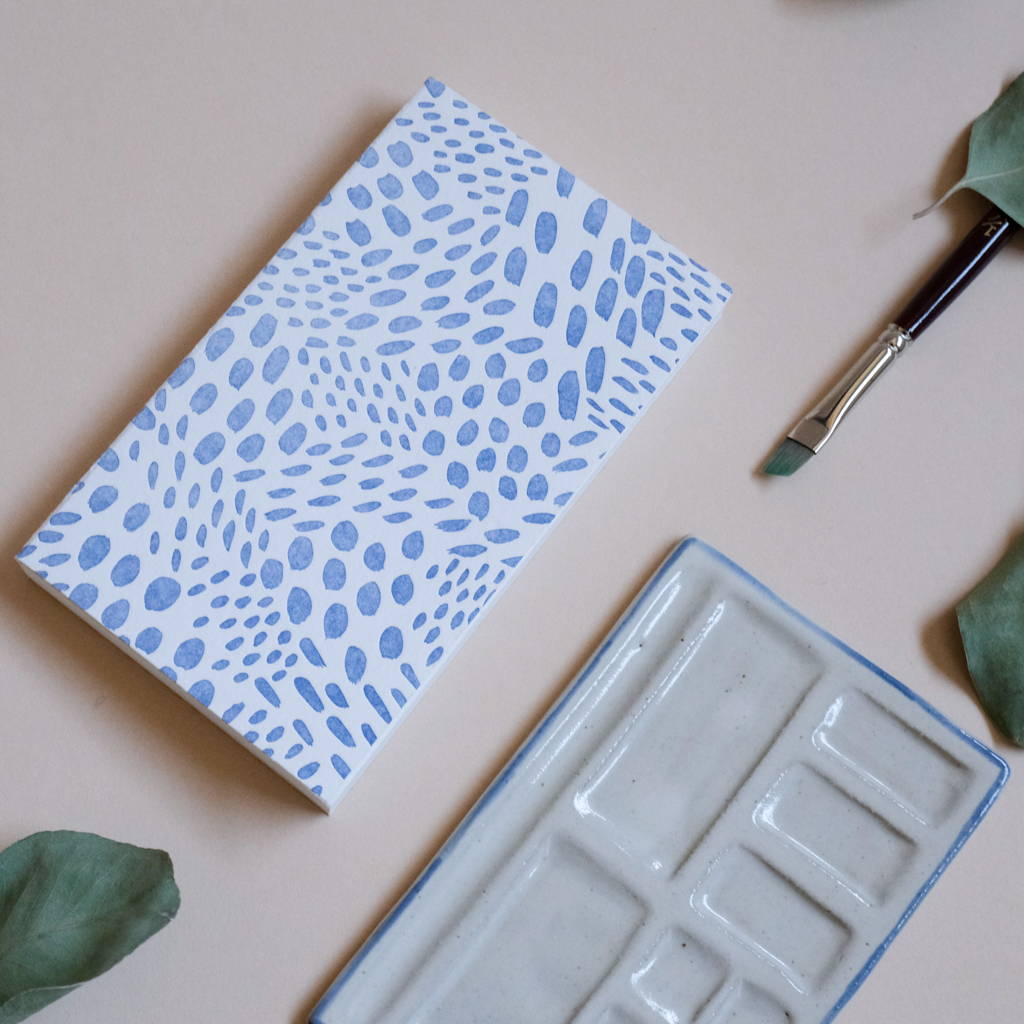 Jen Jong of jvj Ceramics and Emily of Emily Storvold Art met virtually through the Royal Bison Holiday Market just last year. Jen tells us, "I had admired Emily's painting so much and I knew I wanted to work with her since then."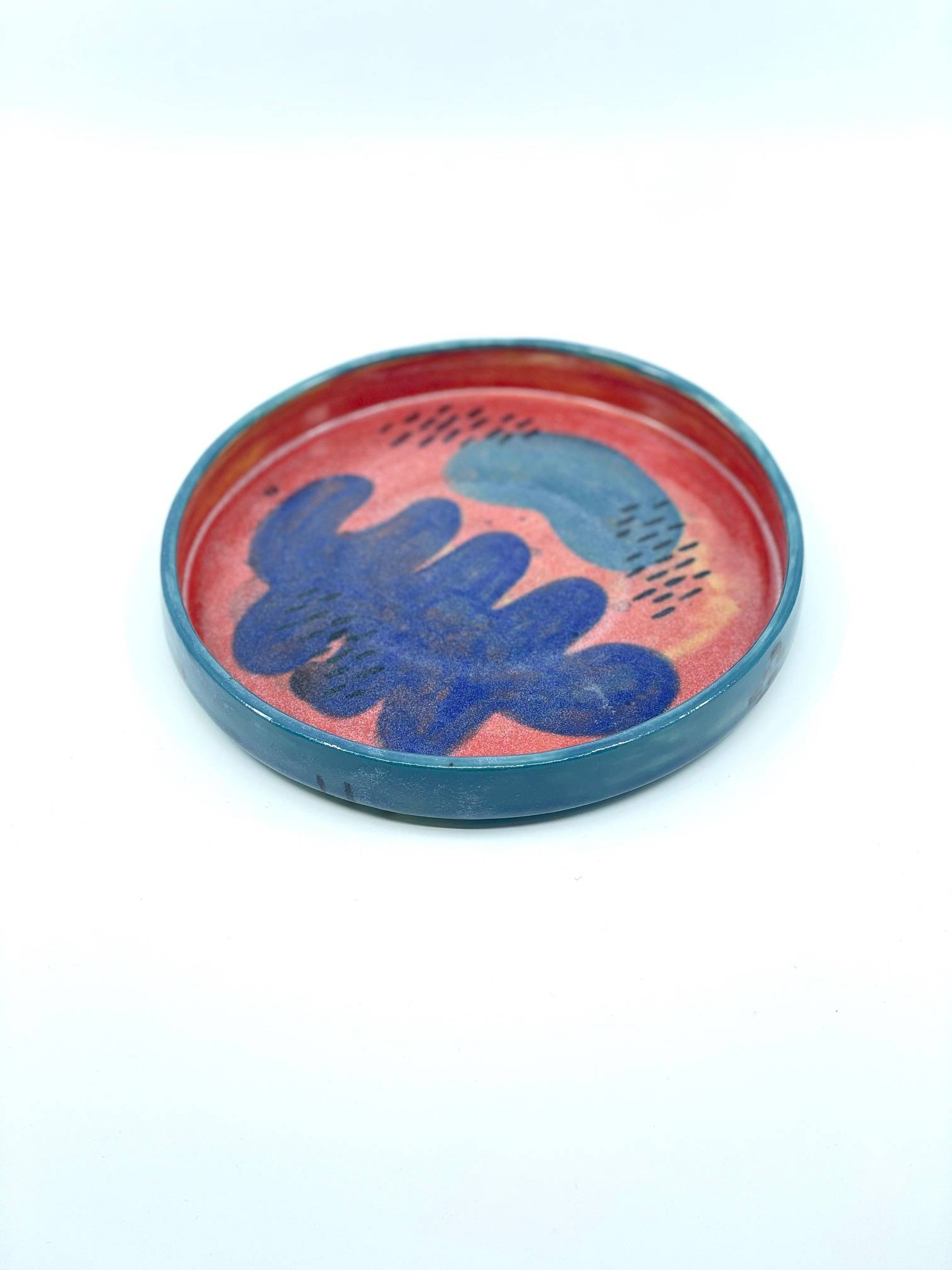 Virtual Vendor Love at 1st Sight
Jen reached out to Emily in February asking if Emily would be interested in painting Jen's ceramic forms. Emily tells us, "I was super excited to collaborate with Jen because I had fallen in love with her work (her colour palettes and sense of form), and I had never really painted on ceramics before. I'm always interested in trying new things and collaborating with people I admire."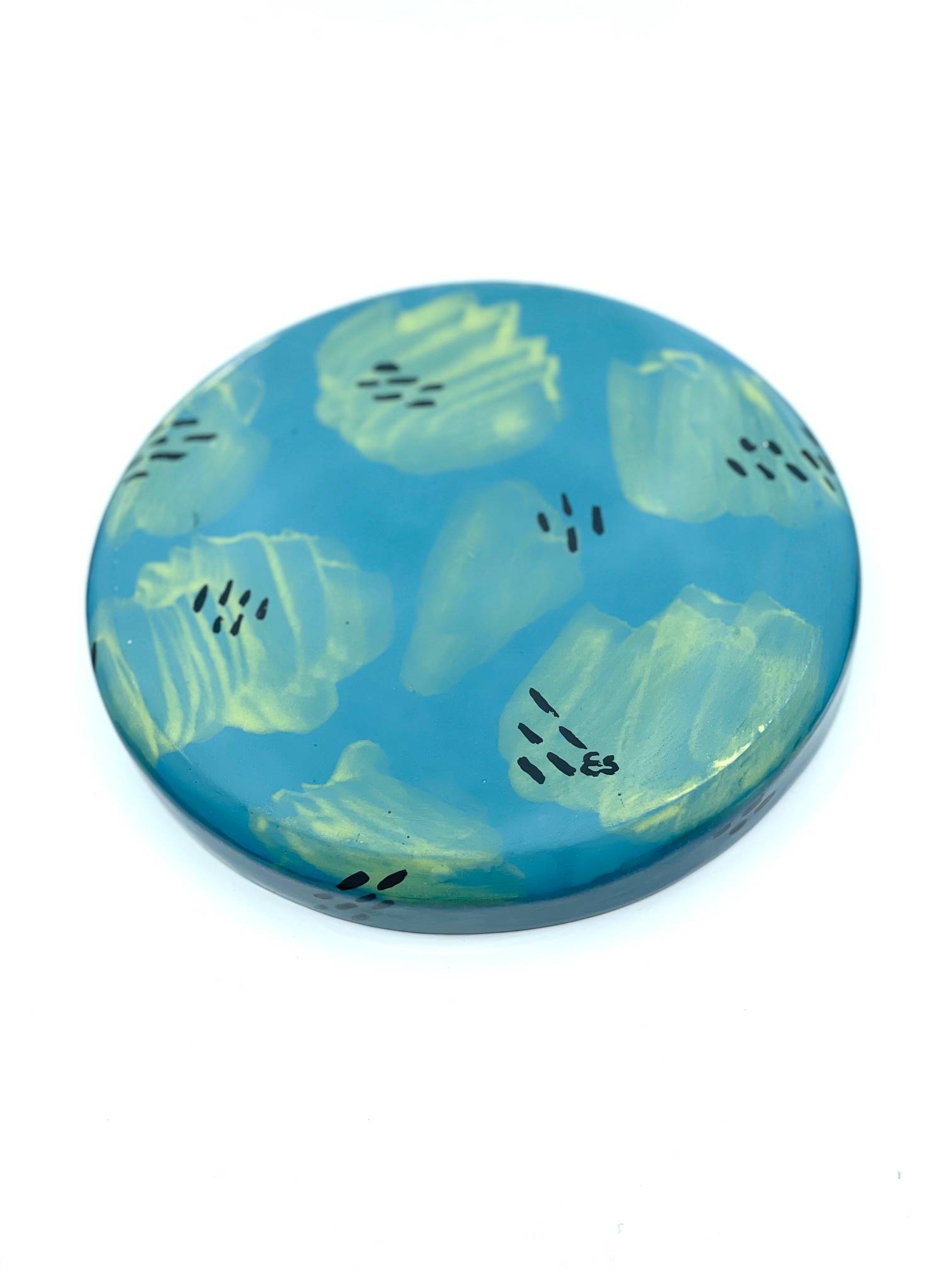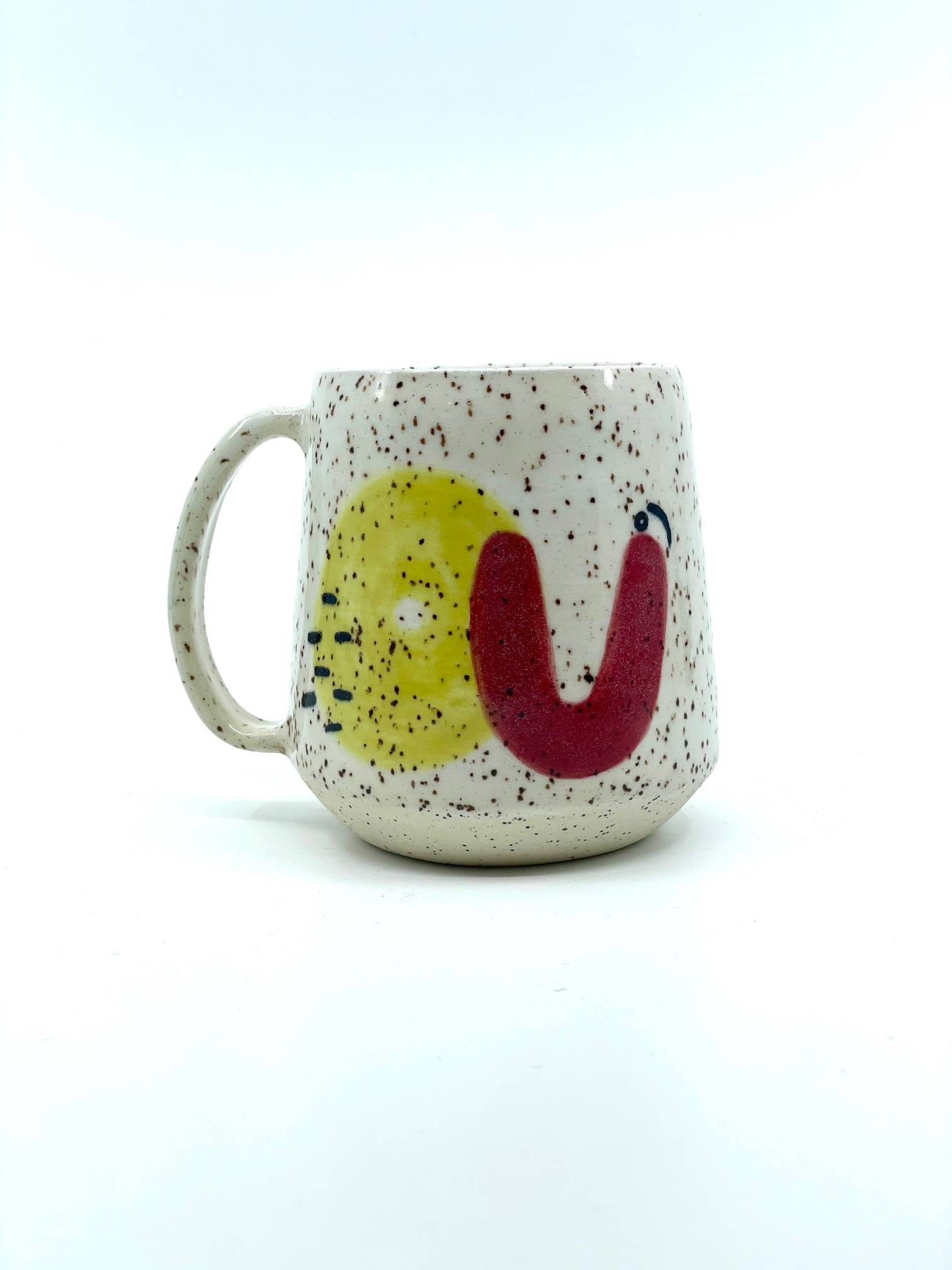 Now Comes the Process!
Jen created wheel thrown mugs and dishware and then handed over these bisque fired pieces to Emily for a little one-on-one decoration. Once they were painted using underglaze, Emily returned them to Jen, who did a second bisque firing, followed by a final glaze and firing. Et voila!

Emily tells us that, " Lately I have been working with layering watercolours with paint-marker and ink. Layering is a large part of my process these days, so I thought a lot about how I could transfer that to 3D forms while using underglazes. I also wanted the work to feel reminiscent of my other work, while also respecting and emphasizing Jen's forms."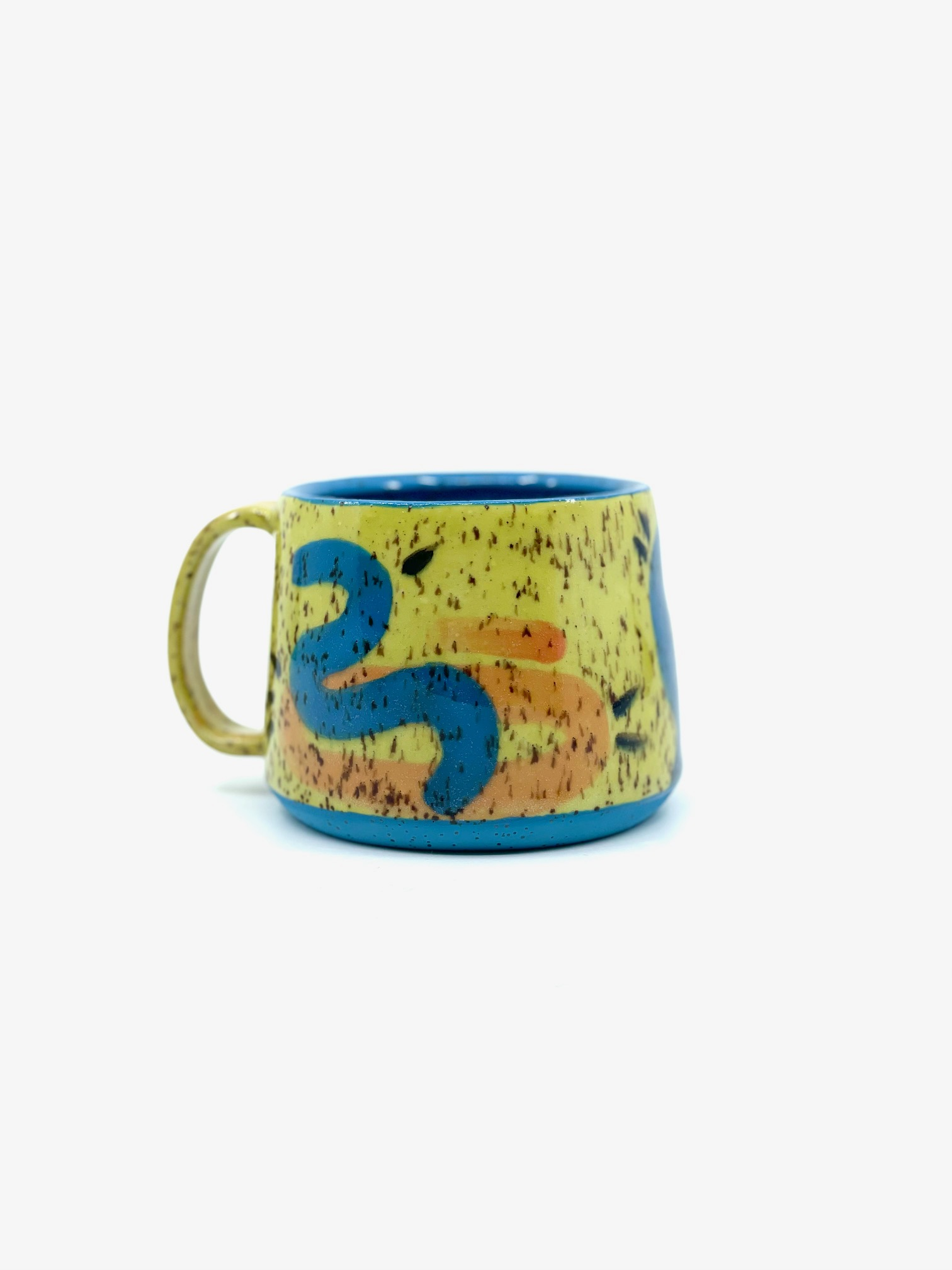 Full of Surprises
For Jen, seeing her forms in a completely new way was super exciting. With Emily's playful and fun painting, she feels they "complemented the pieces really well!" Yet for Emily, because underglaze colors are so pale, she had no idea what the final colors would look like after the work was glazed and fired. She tells us, "I love working with chance in my work, so the not knowing was thrilling, BUT I was also nervous about messing up. When I saw the finished pieces I was so excited about the colours being even more vibrant than I had anticipated."
Follow Emily and Jen on social media to follow along with all their work, both solo and together. Find them @emilystorvold & @jyjceramics.